Aftimios Icon
July 24, 2011 will be the 45th Anniversary of the repose of Archbishop Aftimios Ofiesh of Blessed Memory.
Archbishop Ofiesh was presiding Archbishop of The Holy Eastern Orthodox Catholic and Apostolic Church in North America (American Orthodox Catholic Church) from 1927 until his death in 1966. He remained a bishop after his marriage. The Antiochians prove our claim that this Church did not adopt the Canon on Married Bishops by their publishing 2 important points of fact.
1. That Bishops Ignatius and Joseph stated the canon on married bishops is a European and asian canon that has no bearing on the American Church and
2. That Archbishop Ofiesh's widow, Mariam, wrote that he intended to continue as a married bishop.
These 2 claims written on the Orthodoxwiki site (Antiochian operated) contradict their other claims like he deposed himself when he married or that he retired - both false claims.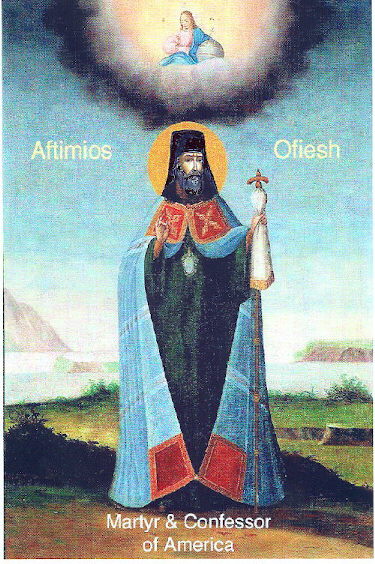 Archbishop Ofiesh,
Martyr & Confessor of America
© Feb. 16, 2011
Icon
Archbishop Aftimios Ofiesh
Martyr & Confessor of America