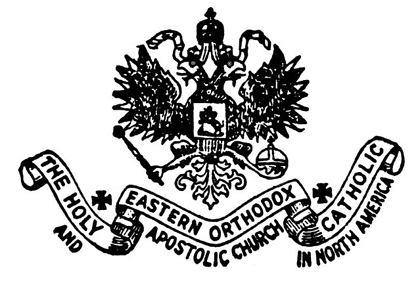 About Archbishop Victor

+ + + + + + + +
On Feb. 15th, 1997 Archbishop Victor was elected Metropolitan by the North American Holy Synod. Metropolitan Victor was previously the corporate vice-president, since 1995, of The Holy Eastern Orthodox Catholic and Apostolic Church in North America ®, Inc. (the original church corporation that was incorporated on Feb. 1, 1928 by Archbishop Aftimios Ofiesh and seven others). Archbishop Victor's election and elevation to Metropolitan also made him corporate president. Metropolitan Victor was the first to be offered the nomination to be elected Patriarch once the Synod voted the Church a Patriarchate.
Prior to his election by the Synod the Church had been headed by the locum tenens since the repose of Abp. Aftimios [first Archbishop of the Church]. Mariam Ofiesh sat on our corporate board of directors.
Archbishop Victor has worked to provide the truth to the public about the many false claims by some in the independent movement. A defamation and invasion of privacy lawsuit was won against a former self-proclaimed independent "bishop" of questionable background and lines. He also has a criminal record and numerous warrants for his arrest so he fled. This individual published outright lies about the Archbishop and Church on his webpages AND he stated in Court that he "printed what he believed was true".
Another "clergyman" of doubtful lines sent threats by email and backdated his documents. This seems a standard practice by some in the independent movement who seek status for themself at any cost.
In the above mentioned lawsuit judgment the Judge declared that former Metropolitan Victor is "NOT" a public figure.
Under the leadership of Metropolitan Victor the Synod and corporate directors have worked toward clearing the good name of this Church. Any of the independents who use our name to falsely claim they are us would be guilty of infringing our name and could face civil or criminal charges. Many who do not understand the problems associated with the independent movement believe what they hear and believe we have been nothing more than an old catholic church. Once its understood those individuals were not of this Church or lines they may take a closer look at us and discover who we really are.
There are a few in the Ethnic Orthodox Churches who try to re-write history and make assumptions and other such claims that they canot document.
This Church has received a letter from a Roman Catholic diocese that our clergy may offer communion within our liturgy to Catholics and our clergy have been asked to concelebrate the liturgy with Roman Catholic clergy. Our Tibunal had issued a decee of divorce (annulment to Catholics) which has also been recognized.
We have a few clergy who as Chaplains are allowed to offer the Latin Mass when its requested.
+ + +
Archbishop Victor has lived the life of a hermit since 1982 in rural Florida and rural Arkansas. Before being "elected" Metropolitan by the members of the North American Holy Synod he covered a 3 state Archdiocese. On Feb. 15, 1997 Archbishop Victor was elected Archbishop President of this Church. The Church later became a Metropolitanate and the Presiding bishop received the title Metropolitan. This changed when we became a Patriarchate. Our Church or Patriarchate are under the Synod headed by the Patriarch.
Archbishop Victor has worked on establishing communication with other traditional Orthodox Churches but to no avail. Since they act in such an unchristian manner the Synod finally took action against all involved in the attack on this Church and our original synod.
Archbishop Victor has acted to end the non-traditional activities within the Church such as the varied liturgies previously used. Under his leadership the Synod has approved the Western Rite St. Andrew Service Book of the Antiochian Christian Archdiocese with minor changes for use in this Church. This is the only Western Rite Approved for use in the USA at this time. The use of the Byzantine Eastern Liturgy has also been approved for this Church.
In an effort to halt the false claims of those who say they are us Archbishop Victor has Registered as a Service Mark our Church name and logo. The "®" indicates that our name, in use by us since 1927, is our registered Service Mark and is duly Registered with the U.S. Patent Trademark Office. "The Society of Clerks Secular of Saint Basil was a Registered Service Mark still in use by this Church
Archbishop Victor is the owner of our Registered Copyrights and Service Mark.
Since the Society was established by Archbishop Ofiesh of Blessed Memory. We have 3 copyrights - Our web pages, Synod photos and photos of Archbishop Victor. Now anyone claiming to be us and using our name are in violation of U.S. Law.
If you have any questions about anyone claiming to be a member or clergyman of this Church do not hesitate to write: Church Office, P.O. Box 121, Sudan, Tx. 79371 or e-mail us at the address at the bottom of this page.
+ + + + +
The following was written by a former member of our clergy about Archbishop Victor:
The (former) Metropolitan (Victor) has been living the life of a "consecrated hermit" under a spiritual director and a strict rule of life. This is to complete the earlier mention of his "hermit Life" (top of page) and to separate him from just someone who lives alone. I would describe his vocation of solitude as one of prayer, fasting and vigil, simple work and ministry to the clergy of the Church as a Father to the Church. A Hesychast for whom the Way of the Pilgrim is a day to day life. Privately in celebration of the Mysteries and weekly Confession. The Metropolitan prefer's the quiet monastic setting.
+ + + + + +
Archbishop Victor has numerous certificate's, diploma's and degree's from Orthodox seminaries and he has certificates from Moody Bible Institute, Chicago, IL. and other schools to name a few. He also has a couple honorary degree's but most have been earned degree's. Archbishop Victor seldom refers to the degrees or uses related titles like Th.D or Ph.D.
+ + + + + + + + + +
Links
Veterans
About THEOCACNA
NOTE: We have links to published articles about the Society of Clerk's Secular of St. Basil (also a service mark of this Church) and the original Synod on www.theocacna.org.
Copyright - 2010 Victor Prentice
All Rights Reserved
Notice:
Do Not Link or Copy without written permission.
Email: info@theocacna.us